How Much Does a Steam Shower Cost?
How Much Does a Steam Shower Cost?
Home owners searching for bathroom remodeling ideas should be familiar with the most recent interior design trends. These trends will help add value to your home bathroom. Recently, bathrooms are becoming more spa-like, which also makes the bathroom more comfortable. The cost of a steam shower may appear, considering that the installing steam showers in the bathroom is a current design trend.
The cost of a steam shower varies between the cost of  custom tiled shower units and prefabricated free standing shower units.
Prefabricated Steam Shower Units
These pre-built steam shower units are easily put together , usually within a day and hooked up to your home as easily as a washing machine. They are usually installed by way of a professional electrician and plumber but come in kits and most handymen have no problem to install one themselves. The cost of these steam shower units as of 2016 varies between $2700 and $5800. This doesn't include the expense of labor for the installation. These units usually are all-in-one shower stalls with built-in features. For example, The Eago DZ962F8 Steam Shower features a 6kw steam generator, ceiling light, Stereo, tempered glass enclosure, six body massage jets, handheld showerhead and rainfall ceiling shower. It also incorporates a touch screen computer control panel with a timer and a built-in seats.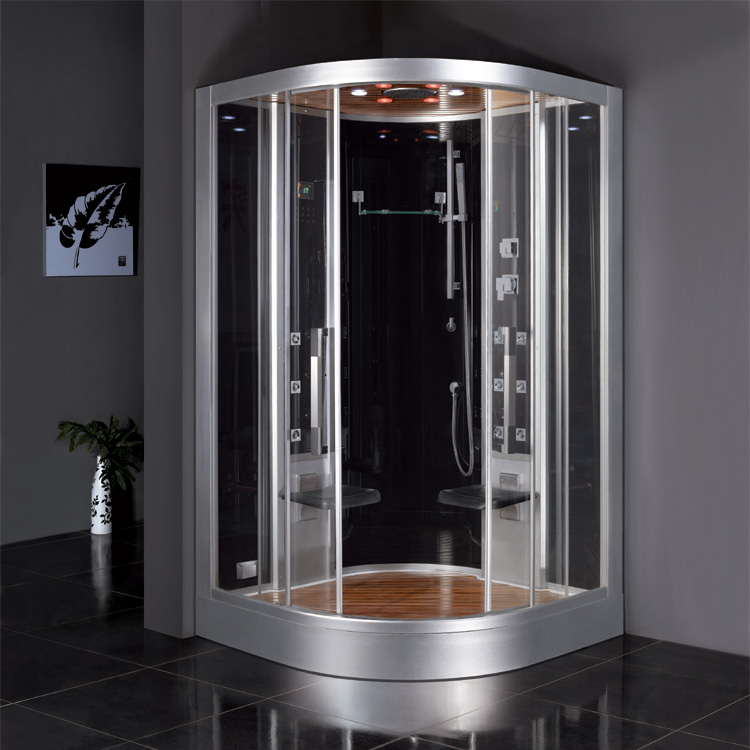 Custom Tiled Steam Showers
The cost of a custom steam shower is determined by the materials used, the size of the shower and the features within the shower. The larger the shower, the higher priced the project is likely to be, especially when the materials are costly. The price can vary greatly depending on the other jobs being completed in the renovations. The cost of a custom steam shower varies between $10,000 and $16000 for an average Custom steam shower enclosure. To put in a custom steam shower, you will likely need a contractor, tile setter and shower-door installer; a plumber and electrician is likely to be required for the job also. You will pay dearly for the labour costs with a custom steam shower because of the need to seal all parts of the shower area properly to resist the steam from causing problems with mold and mildue down the road. Something you dont need to worry about with a freestanding steam shower kit because they inharently are well sealed and water and steam do not permeate outside of the shower.
The cost of the custom steam shower also can rise if add-on features are within the project. Types of these luxury features incorporate a built-in seat, remote control, music, touchscreen control, aromatherapy, chroma-therapy and lighting. In the example below of a custom tiled steam shower.The master bathroom has a curbless steam shower and rain head. The tile is Bianco Carrara polished marble with 3-by-6-inch subway tiles on the walls and 2-inch hexagon tiles on the floor.  Other costs to take into account for a steam shower are the maintenance of the steam shower throughout its life, and the expense of running the steam shower.
Cost of Maintenance of Steam Shower
Whilst the steam shower endures wear and tear over the entire year, steam shower parts may have to be repaired and/or replaced. To run the shower, the typical cost is 10 to 25 cents per hour as a result of electrical components.
Note that the steam session uses little water. Having a steam shower uses less water than the usual normal shower or perhaps a bath. A twenty minute steam session only uses two gallons of water. The pros and cons of each option should be thought about and weighed from the budget for the project.
Conclusion of all things considered
Keep in mind that the prefabricated freestanding shower enclosures units  are quicker and easier to install (they can be installed in less than a day) compared to tiled custom showers which can take weeks to build from start to finish.  Also freestanding units usually are alot less costly of an investment and give a greater value for your money as they include many more features into the shower like built in lights, stereo, and added massaging water sprays that if you add them into a custom shower will drive the finished cost thru the roof.  Compare an installed free standing shower installed can cost less than $6000 compared to a custom tiled steam shower can run $12,000-$16,000 and up .
Contributed by: Aaron Gruenke Steam shower expert and foremost authority on bathroom fixtures and bathroom design.