If you want the ultimate spa experience for your new bathroom, chances are you're looking at tubs that provide hydrotherapy.  The use of hydrotherapy has been around for centuries, providing therapeutic solutions for people with arthritis, muscle aches, partial paralysis, and more. Those massaging jet streams you enjoy when you soak in a Jacuzzi or hot tub don't have to be a once-in-a-life time luxury. Instead, they can be a permanent part of your bathroom that you enjoy on a daily or weekly basis. But out of the numerous tub options that are available today, how do you decide which one is right for you? It all depends on your specific needs and what works best with the design of your bathroom.
Air Tubs
Air tubs have several unique features, but the primary difference between them and other hydrotherapy tubs is that they work by releasing thousands of tiny, relaxing air bubbles throughout the tub. These stimulate your muscles and help reduce the pain associated with things like arthritis and excessive exercise. Another feature of air tubs is that they envelope the body in champagne-like fizz that gently caresses the skin. These tubs also stimulate and invigorate touch receptors to mildly release tension associated with tension and stress. These bubbles also appeal to multiple senses, including a blend of aromatherapy bath oils. Air tubs optimize your bathing experience by implementing a tub cleaning system that makes your life easier over time by taking off some of the pressure of frequently cleaning and maintaining your tub over time. Not only will the experience feel delightful, but it will be a constant source of physical therapy whenever you feel the need for it.
Whirlpool Tubs
Whirlpool tubs are just what they sound like: tubs that move water strategically to create increased pressure that circulates. Whirlpool tubs also normally feature air jets that can be used for massage purposes in addition to the way they help circulate the water in the tub. Whirlpool tubs soothe muscles instantly through a stronger deep tissue massage. If you are experiencing severe muscle soreness or simply want the ultimate massage experience, a whirlpool tub might be the best option for your new bathroom. Whirlpool tubs often create a customized bathing experience with adjustable jets to fit your body and hit the places of soreness. Whirlpool tubs often maintain a comfortable bath water temperature when used with an inline heater. This can prevent the water from becoming scalding hot, as well as keep the temperature at an event state so that you do not have to leave more quickly due to the plummeting water temperature.
Total Massage Tubs
Perhaps one of the best options for the ultimate spa experience is the total massage tub. With a total massage tub, you will enjoy luxury and sophistication every time you walk into your bathroom. Total massage tubs blend the technology of air tubs and whirlpool tubs to create a symphony of fizzy bubbles and pressurized water. Total massage tubs provide ultimate relaxation through the combined sensations of soft effervescence and targeted massage. Like the whirlpool tub, the total massage tub ensures optimal water temperature through the duration of your bath with an inline water heater. You can also enjoy a more advanced experience by incorporating any combination of aromatherapy oils into your bath. As the relaxing and detoxifying scents move into the air, you might even transcend reality for a few moments, enjoying the ecstasy of the moment. Total massage tubs also offer in-built tub cleaning systems that take the worry out of total massage tubs. Without the stress of maintaining your luxurious tub, you'll be able to enjoy its features without hassle.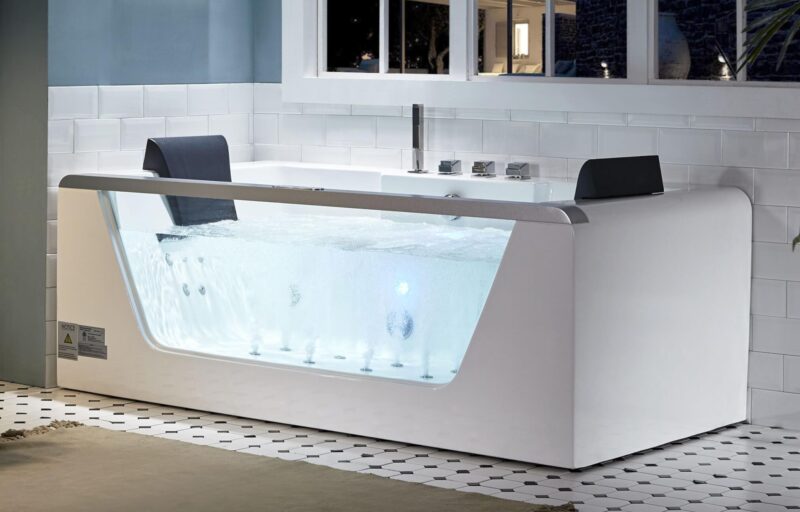 A Word on Design
Most suppliers will feature tubs of various shapes and sizes within the different tub categories so that you can be sure to enjoy the tub you want without sacrificing the design. However, it's important to think how your tub will fit into your overall design plan before you begin construction. If possible, already have the specific tub in mind, along with its measurements and constraints so that you can perform your remodeling according to the tub of your dreams.