STEAM SHOWER PRODUCT COMPARISONS
We know it can be confusing to compare Steam shower products on different websites as they all look pretty good from the pictures but when you get down to the bare bones of where it counts there are some big differences between showers both in features and the most important thing…. QUALITY!!!
We have tried to narrow down some of the most important factors to look for in a quality Steam shower to ensure you know what you are getting what you pay for as some of these models prices vary by hundreds and even thousands of dollars. As you can see from the chart below you can tell that not all steam showers are created equal.
Best Steam Shower Product Reviews
Brand
110V/220V
Size of Steamer
ETL/CSA Certified
Warranty
Glass or Acrylic Back Wall panels
Thickness of Glass
Base Frame
Overall Quality Rating

Royal  SSWW

110V

1.5-3KW

No

2yrs

Acrylic

6mm

No

3

Midocean

220V

3KW

Yes

3yrs

Glass

8mm

No

2.5

WMK  

Wisemaker

110V

3KW

Yes

3yrs

Acrylic

6-8mm

No

2.5

Ameristeam

110V

3KW

Yes

3yrs

Acrylic

8mm

No

3.5

Ariel

110V

3KW

Yes (Some Models)

1yr

Acrylic

6mm

No

2

EAGO/Ariel Platinum

220V

6KW

Yes

3yrs

Glass

8-10mm

Yes

5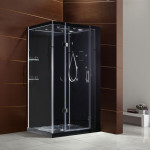 ---
Best Steam Shower Features
From the Chart above we explain these features and let you decide what Steam shower brand is best for your needs.
Power 110V / or 220V why is this important?
Most large appliances run more effeciantly  on 220V power like a Steam showers will typically heat up faster using 220V power Vs 110V power. Most 220V models will produce steam in under a min while 110V models can take up to 15min to produce steam.
Size of Steamer, does it matter?
The size of steamer will determine how quickly your steam shower can heat up and also how hot it will be able to get inside the shower cabin. The larger the shower the larger the steamer will be required to produce enough steam to fill the area inside the shower with steam.
ETL/CSA Certification What is it?
This means that your shower has been tested to comply with local electrical and plumbing codes for Canada and means that the shower meets safely regulations regarding such steam appliances. If you install a shower that is not properly certified and later have water damage or Electrical fire that was caused by your shower then your home owners insurance would be void and you would be liable for all damages incurred.  For your peace of mind and health only purchase products that have been properly certified for Canada. You can always search a manufacturer for there current certification before purchasing product by checking here .
Warranty
This point should not need much explanation. Make sure you look at the fine print on steam shower warranties as some companies warranty is not worth the paper they are printed on . Some companies promise 10yr warranties but in reality they are not really warranting almost nothing. Look for companies that cover all components not just a few components of there units. Also look at a companies ability to supply after service parts and technical support. This can be a very important factor years down the road. You don't want to be stuck with a shower that breaks down and can not be fixed because the company is no longer in business.
Acrylic or Glass wall panels
For longevity of a steam shower, a shower with all glass panels will hold up best and is easiest to clean. The heat and steam in time will start to cause checking and minute cracks to develop in the acrylic panels. Also it can be more difficult to remove water stains and soap scum from acrylic then from glass.
Does Thickness of Glass Matter?
The thickness of the glass panels used in the construction of the steam shower adds to the rigidity of the unit and also to the insulation factor. A shower with thicker glass panels will retain heat inside the shower much better than a unit with thinner glass panels, making a unit with thicker panels much more efficient to operate.
Frame under the base of Shower
A free standing shower will be much more rigid if it has a full metal frame under it rather then just metal legs that are attached to the base at several points under the base. The difference can be felt when you stand inside the shower. A shower with just metal legs will flex and bounce when moving inside of the shower. Contrast that with a shower with a full metal frame under it and it is 100% rigid with no flex noticeable when standing inside the shower.
Overall Quality Rating
After closely examining the top selling showers on the market we have given a rating from 1-5 that reflects in our opinion what is the best quality of steam shower based on the fit and finish on the units and overall performance of the shower. If you were to put all of these makes of showers together side by side you can clearly see there is a noticeable difference in the quality and overall look of these different steam showers.
If you have any further questions about steam showers and any of the features feel free to call us and we will be happy to help educate you further on how these steam showers work and what are the benefits and non benefits of these different models available.
Call us Toll Free 1.866.843.1641  or email us at    info@perfectbath.com