Vital Things You Didn't Know About Toilets
No home is complete without a proper working toilet. The thought of relieving yourself out in nowhere can be literally scary. However, with a toilet in place; it is simple and very convenient. However, simple as they may look, there is much to know about toilets. You need to know how they work in order to get trouble free use and long life from them. Here are some vital facts about toilets you need to know.
The shape of a toilet plays an integral part in how your toilet looks. Indeed it determines the style of the bowl, seat, and also lid. Additionally the shape of your toilet will also determine the amount of installation space that your toilet requires. Here is what you need to know about toilet shapes.
Elongated Toilets
Elongated toilet bowl shape is not the most common yet. However it has many ad
vantages such as these.
Offers more comfort for adults.
Provided added room for seating.
Easy to install and operate always
Are unique and stylish for aesthetic
Gives you the best of both toilets.
Round Toilet Bowls
Unlike their elongated counter parts, the round toilet bowls are the most common designs due to these.
They take much lesser space/ room
They have fit many home designs
They are usually quite affordable
They are the easiest toilet to install
Elongated Toilet Bowls often extend from wall about 18 inches plus. On the contrary the Round Toilet Bowls take slightly below 17 inches making them super options for the very small space designs.
Oval Toilet Bowls
Also known as the Compacted Elongated Bowls, the oval toilet bowl saves 10% more space than the normal Elongated Toilet Bowls. They are likable for.
They have stylish designs
They are less demanding
Usually, round shapes require less space but are much more comfortable. Oval shapes on the other hand require more space to install, while elongated shapes are the master of class and design.
Toilet Seat Heights
The reason why a knowing the height of your toilet seat plays a key role is simple. It determines how comfortable your will be when using the toilet. When your legs dangle, they grow tired fast and a leaves you quite uncomfortable. Here is what you should know about the toilet seat height (Source: Toiletrated).
Toilet height is simply measured with a tape measure. The measurement is taken from the floor to the top of the seat. Heights vary, but more often they fall somewhere between 14 inches and 18 inches.
The standard toilets sit 14 inches. However the Chair Height Toilets or the Comfort Height Toilets – like Kohler refers to them will measure 15 inches or more.  Many of them 16″+ are ADA compliant.
Standard toilets are ideal for people with smaller stature or average heights. On the other hand, Chair Height Toilets are often two inches higher than standard-height toilets. They are easier to use as too.
Finally there are the Custom Height Toilets.  A good example of this type of toilet is the Wall-hung toilets that can often be positioned at a desired height from 15-3/8″ to 28-1/2″ to allow range of users.
Toilet Trapways
Another important consideration to go with is the toilet trapway. The main job of a toilet trapway is to carry waste from the toilet bowl to the main sewer line piping. A fully glazed toilet trapway will keep a smooth flow. Here are some toilet trapways that you can always go along with.
Exposed
The Exposed Trapway is traditionally designed. They can be easily seen from the side of any toilet that uses this design. They are characterized with standard caps to cover the exposed bolts that attach your toilet to the floor.
Concealed
These one features a smooth trapway surface. You can easily wipe the surface clean. Low-profile bolt caps are used instead of the traditionally exposed raised caps in order to provide a smooth, easy-to-clean surface on toilets (Visit: Toilet Rated).
Completely Hidden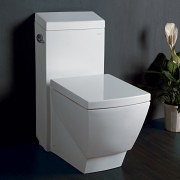 This is also known as the skirted trapway. It offers an easy-to-clean uniform base usually extending from the front to back of the toilet base. Usually, no bolts are exposed and many models require no drilling or caulk to install.
Toilet trapways are easy to manage as you can learn how to remove your toilet caps and again replace them with a more exquisite design. The process is usually simple and more specifically a DIY procedure.
Flush Systems
Apart from what we have seen the next thing in line to play an integral part on how your toilet operates is the flushing system. From gravity, dual flush, to double cyclone, or single flush the choice literally lies with you.
Even so the way your flushing lever is placed will be determined with what types of design you need. Today, toilets come with varying flush leavers and some of the most common ones that you might find are these.
Single Flush toilets with levers on left or right sides of the toilet.
Dual Flush toilets with the flushing lever for small and full flush.
Touchless Flush that uses a sensor to trigger the flush of your toilet.
Wall Mounted flush that works with wall hung toilets for convenience.
Benefits of Good Flushing Toilets
Looking at what having a great toilet entails, we can't still walk away from the benefits of a good flushing toilet.
High Flow toilets offer an easy to use method to remove waste. They are very hygienic and will help to keep germs and bacteria away. Additionally, a high flow toilet is easy to take care of will last longer than a normal toilet. They also keep odor away and leave you with a fresh breath always. One last thing though, they are eco-friendly but can a little pricey but generally worth it.
Conclusion
To keep your toilet functioning at best, it is important that you learn some of the most Common Problems of Toilets and how to take care of them. This will help you to learn more about your toilet and also work with it in the most appropriate ways.
Summary
Toilets are a necessity in a home. They also help to boost the value of your home and also to keep your options for improvements open. Always choose a design that is best for you.
Contributed by: Perfectbath foremost experts in Toilets and bathroom fixtures