If you're in the market for an infrared sauna, there are several key considerations to make to ensure you select the perfect sauna for your home
Numerous health gurus, fitness experts and medical doctors all agree – saunas, specifically infrared saunas, can deliver a whole host of important health and wellness benefits for people of all ages. From chronic illness to minimizing stress, improving the effectiveness of a workout to cleansing and purifying the skin, modern saunas combine today's leading technological innovations with centuries-old wellness principles to deliver real, tangible health benefits for the sauna enthusiast. If you're considering buying an infrared sauna for your home, make sure you ask the following questions:
What type of heating system is best?


Traditionalists will always seek a way to tout the benefits of a "hot-rock-and-steam" sauna, but the majority of new saunas produced today are outfitted with infrared heating elements – not the old-school heaters that create extraordinary amounts of steam within the sauna. Near-infrared and far-infrared only heating elements are available, but saunas that use Full Spectrum Infrared (near, mid and far infrared) are generally considered the best. This heating system promotes sweat and deep-body infrared wave penetration to eliminate toxins as efficiently as possible. One of the biggest benefits of an infrared sauna versus the traditional sauna is the lower operating temperatures afforded by the infrared heating element.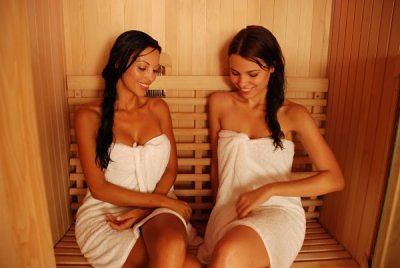 What size sauna should I be looking for?

This obviously depends on your intended use.  If you will mostly be using the sauna by yourself, a compact sauna model might seem like the logical choice.  Many health-minded individuals use their sauna as a contained exercise room. You can add a different dimension to your yoga routine by doing it in a sauna, or add a twist to other exercises in your repertoire. Bottom line? Select a sauna that fits your home and your lifestyle, but make sure to account for future needs when narrowing down the overall dimensions.
What are the real-world health benefits of an IR sauna?

Your new infrared sauna will provide a host of tangible health and wellness benefits, with the eight most important sauna health benefits being:
Muscle pain relief
Immune system boost
Weight loss and increased metabolism
Detoxification
Joint pain and stiffness relief
Improved appearance of cellulite
Reduction in fatigue and stress
Improved skin tone and clarity
What kind of warranty does my sauna include?

Though a warranty is only one part of the equation, you'll want to investigate the company and the warranty offered with each sauna. The warranty should cover the heater, electrical system, controls and other peripherals. Better companies will even cover accessories like audio and chromotherapy systems.Also, determine if the warranty will cover the sauna if the unit is used in a commercial location. If you're looking for a new sauna for your office or commercial building, this is an important consideration. Most warranties are designed for home use and provide coverage in normal operating modes. Spend some time online, and research any consumer's feedback of the company, including warranty-related issues.
When researching buying an infrared sauna for your home or office, there are various models available for your consideration that will perform admirably and last for years to come. Beauty Saunas Infrared Saunas are wildly popular today and combine several unique benefits for the discerning shopper. Beauty Saunas combine Full Spectrum Infrared heaters with kiln and air-dried wood structures for superior durability and performance. Far Infrared Saunas can also be enhanced with a number of options, such as chroma-therapy lights, custom interiors, sophisticated electronics packages, and more. And it's all covered by the  Limited Lifetime Warranty for residential use. Even commercial-level users enjoy a lifetime warranty.
Contributed by: Aaron Gruenke Foremost expert in Saunas and bathroom fixtures.