Keeping the bathroom clean should be a continuous effort.  If neglected, clutter will slowly pile up until the whole room starts to look messy. Start by removing the following: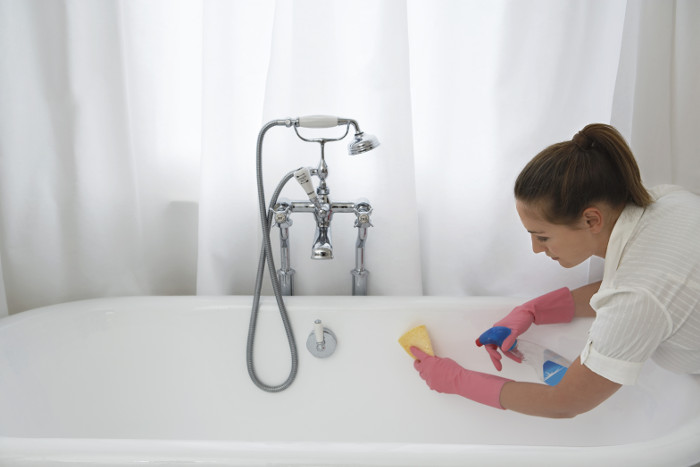 Expired makeup
While it may look okay in the container, expired makeup can turn clumpy and also harbor bacteria which can cause an unfortunate reaction to your skin (think bumps or even infections). Toss and spring for some new products — your skin will thank you. Source: Today
Hotel toiletries
People are always tempted to stock up on the cute bottles of shampoo and conditioner when they stay at a hotel, but they aren't necessary to keep and have take up space in your bathroom. It's better to buy reusable bottles and fill them with your own body wash and lotions. Hale and Draddy suggest donating travel-sized toiletries from hotels to homeless shelters. Also, check with your local church or school because many times they collect them. "To help people let go of stuff it helps to know that it's going to someone else. It's a really good motivator," said Draddy. Source: RD
Prescription antibiotics
First of all, get these out of your bathroom, says Shilpi Agarwal, MD, family medicine physician and author of The 10-Day Total Body Transformation." Condensation can affect potency and make medication go bad quickly," she explains. In or out of your bathroom, though, leftover prescription medications should always be thrown out by the expiration date. "Not only do you run the risk of not having a complete course, but also the medication may become ineffective," says Dr. Agarwal. Taking expired medication can also cause you to develop antibiotic resistance, which will make it useless when you really need it. Source: Health
Toilet brush
It's an item we'd all rather not think about, right? It's a gross implement used to swipe away at an even grosser fixture. Well, chances are you're not soaking your brush every month to kill extra bacteria and possible odors. And, since toilet brushes are fairly cheap, shoot for throwing yours away every year to avoid a case of the shudders next time you need to use it. Source: WiseBread
The bathroom is a place where you should be able to wash all your worries away. It should be a place where you can relax as you soak in a warm bath. However, if your bathroom fixtures are outdated, it may just stress you out instead. Check out our website to choose from a variety of high-quality, timeless pieces that will make your bathroom look straight out of a magazine!
Contact:
Perfect Bath
Phone: Toll Free 1-866-843-1641
Calgary, Alberta
Email: info@perfectbath.com