Are you planning on doing a bathroom remodel anytime soon? To avoid wasting time and money, make sure you steer clear from the following mistakes: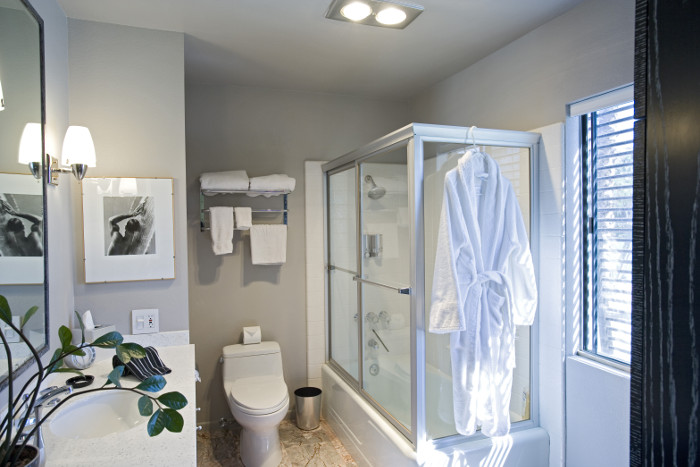 Forgetting to include storage space
Anyone who has ever lived in a bathroom with inadequate storage knows what an epic pain it is to find room for toiletries, towels, extra toilet paper, and cleaning supplies elsewhere in your house. Unfortunately, too many people design their bathrooms and completely forget about storage, says MacEachern. In addition to allotting room for cabinets and shelves, he advises leaving yourself at least 30 inches of counter space—and if you don't have the room, try to compensate with extra wall-hung storage. Source: ApartmentTherapy
Believing that bigger is better
That's right: Bigger isn't better; better is better. Whether you're designing a large master bathroom in your dream home or trying to figure out how to squeeze in an extra bathroom for your growing family, the most important aspect of your new bathroom is that it has a great design that functions efficiently for your specific lifestyle.
The truth is, great design is less about how a bathroom looks (although it's always nice when it looks fantastic) and more about how it works. Great design translates to a house that functions better, costs less to build, is more efficient to maintain and gets you more for less. Source: Houzz
Rearranging fixtures without a plan
If you're renovating an existing bathroom and the layout already makes sense, think carefully before switching sanitaryware around. Moving pipes can quickly become expensive and can raise more problems than it solves. If you do want to switch things up, make sure you consult a plumber first to make sure your plan is feasible. Source: LoveProperty
Using only one source of light
Are you settling with simply the overhead lighting in your bathroom? If so, you're doing yourself a disservice. Layered lighting is key to creating a truly functional room, and the bathroom is no exception. Layered lighting makes grooming routines, such as shaving or putting on makeup, a whole lot easier. Source: Freshome
Talk to us about your bathroom remodel, and we can help you pick the best fixtures to go with your plan. Call us today!
Contact:
Perfect Bath
Phone: Toll Free 1-866-843-1641
Calgary, Alberta
Email: info@perfectbath.com