Think of a Combo Steam shower bathtub When you want to add those extra touches to your bathroom and create your home spa experience. These combo showers are great when you want a bathtub and a shower but do not have the room for both in your bathroom. Now with these carefully thought out combo shower units it is possible to have both a steam shower and whirlpool bathtub in one quality shower/bathtub.
Contact us for todays best deals
 Spark your imagination and create a whole new morning experience by upgrading to a steam showers with distinction, style and quality.
 Combo Steam Shower Bathtub
Even if you've never given a second thought to showers, stepping into one of Perfect Bath's combo steam shower bathtubs opens up a world of fantasy. You'll enjoy taking a daily shower or bath in a space of such elegance and high-tech function. You'll be inspired by an overhead rain shower, multiple massage jets, and coloured lighting to suit the mood of the moment. You'll marvel at the multitude of high tech -style digital options and luxury features. It seems like a small change to make, but improving the place you start and sometimes end your day by upgrading your shower can make an immense difference in the quality of your day-to-day living. After all, the average Canadian spends about 80 hours in the simple act of showering every year. Start off the morning with your favourite music, played on the stellar sound system in our units. Sing (or even dance) in the shower in the morning to your energizing tunes, or enshroud yourself in misty steam clouds at night while listening to relaxing meditative tracks. Visit our showroom and you'll covet a Perfect Bath steam shower the minute you step foot inside!
Our Combo Steam Showers Feature: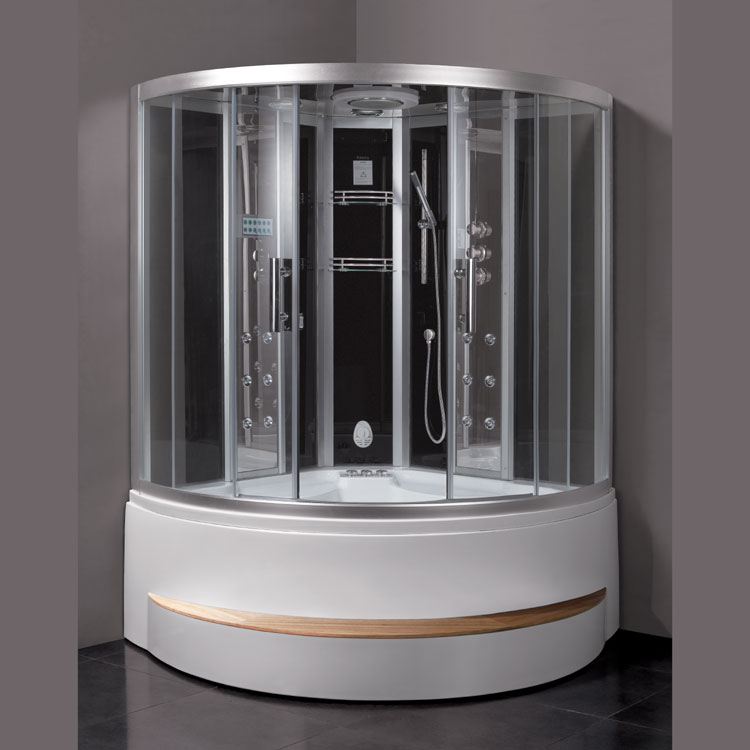 Jetted Whirlpool jetted whirlpool bathtub
Quick 3-6kw steam generators for steam in 40-60 seconds.
Thermostatic pressure-balanced faucets for even temperatures.
Large overhead monsoon rain shower head for a even and thorough cascading rinse.
Multiple directional body massage jets.
Technologically advanced touch screen control panel.
Built in stereo with color chromatherapy lighting.
Aromatherapy ports to customize your experience for health and mood benefits
all shower wall panels are made of tempered glass 8-10 mm thick.
Easy to install with sturdy free-standing designs (for new construction or renovation).
All panels fit through standard doorways.
Considered the Mercedes of showers in quality and state of the art design.
CSA and UL approved for Canada and the US.