If you are thinking about a good bathroom renovation, you might want to keep up with the latest trends while you're at it. Get inspiration from the following: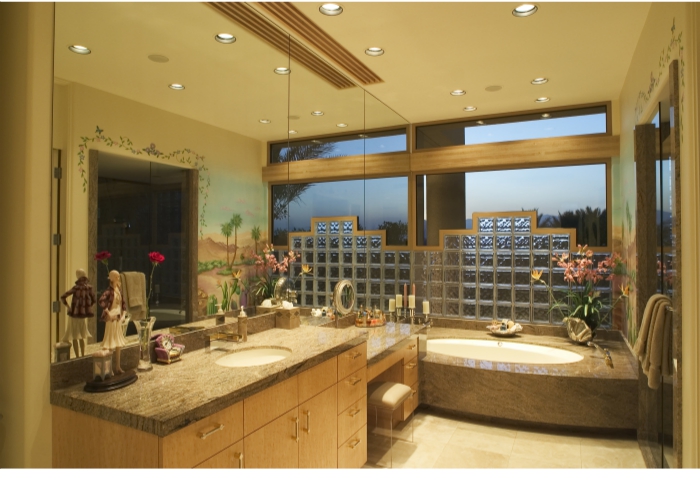 Mix between industrial and spa
Utilitarian may still dominate overall, but the introduction of soft wood hues, as well as a renewed focus on natural greys and off-whites in floor and wall tiling, will help offset the hint of Scandi starkness. "An abundance of wicker baskets to hold your toiletries and towels will help recreate the sense of calm well-being you find in a luxury spa," says Naomi.
The timeless appeal of black and white shows little sign of waning, either, but for those in search of alternative notes, the softest baby blues or creams via fittings or wall coverings will add extra interest. Shades of terracotta remain enduringly popular for worktops and tiling, and contrast perfectly with a monochrome template.
Naomi believes that repurposed stone helps soothe and relax our senses, particularly when matched with the sumptuous marble finishes which have become a hallmark of contemporary good looks. Basin units constructed from rustic wood materials are proving popular, too, particularly when twinned with the bold, industrial brassware that has become the centrepiece of many bathroom designs. Source: Telegraph
Storage ledges
You know that catchall niche you use for literally every product you need in the shower? It's opening up, and making room for the ledge. "It's a cleaner look, and one that can be used in almost every bathroom, no matter the style," Tolbert says. Source: HouseBeautiful
Beautiful artwork
Photography and art has the ability to set the tone and mood of a space, and expresses a homeowner's tastes, so why should bathrooms be overlooked? A sophisticated piece of art lends a bathroom an impactful focal point, especially if the scale is large. Source: HouseAndHome
Are you looking for beautiful and high-quality bathroom fixtures for your upcoming renovation? Click the link below to check out our products:
Contact:
Perfect Bath
Phone: Toll Free 1-866-843-1641
Calgary, Alberta
Email: info@perfectbath.com