To create the master bath of your dreams, include the following pieces of advice on your design process: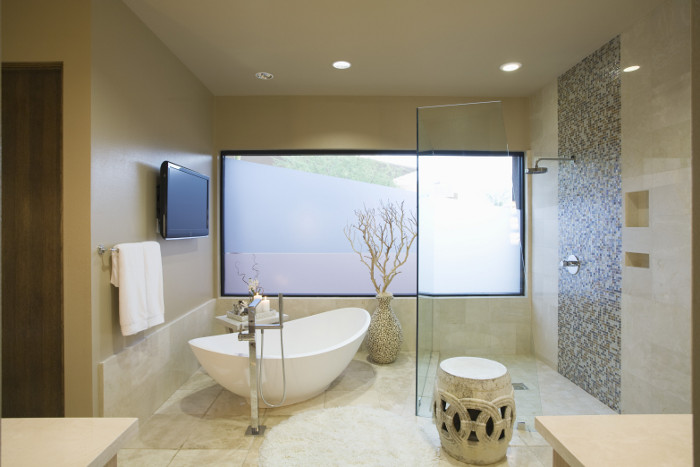 Choose a relaxing color palette
Color has the power to energize and to soothe, to wake you up and calm you down. Consider the mood you want to evoke before selecting your palette of materials. As you develop your bathroom color scheme, remember that color comes from more than wall paint and fabric. The hues in the cabinetry wood and in the stone or tile you choose for floors and walls play a major role in creating an overall color personality. Even the sink and tub contribute to the bathroom color scheme, whether they're made of white porcelain, dyed concrete, or stone. Source: BHG
Have a universal layout
Another trend in master bathrooms is the use of universal design. This approach, designed to accommodate people of all ages and abilities, includes wider doorways, showers with no raised lip around the bottom, larger shower doors and more room around fixtures. Once thought of as industrial-looking, universal elements such as grab bars now blend seamlessly into even the most luxurious master bathrooms. Source: HGTV
Create lots of storage
Since most people have many hygiene products, a bathroom remodel is the perfect time to increase your storage space to ensure better bathroom organization. Add bathroom cabinets, drawers, shelves or even carts to store all of these necessary items.
Cabinets that have molding and glass fronts increase the appeal of the bathroom by giving it more character. If you can't replace your cabinets, consider adding decorative knobs and pulls to update the look. Source: HomeAdvisor
With the luxury bathroom you have in mind, you should only use bathroom fixtures of highest standards. Take a look at what we have in store for you, and call us if you need any assistance!
Contact:
Perfect Bath
Phone: Toll Free 1-866-843-1641
Calgary, Alberta
Email: info@perfectbath.com